eCommerce Services for the Manufacturing Industry
eCommerce for modern manufacturers extends far beyond providing transactional capabilities. It's about delivering an engaging and purposeful digital experience for all types of buyers, with one view of a product across every channel.
How can you extract all possible value from your technology investments while supporting your company growth and innovation? This is the daunting task for manufacturing companies in the digital commerce era. More than ever, the status quo of how we conduct traditional commerce is under transition. The Amazon effect is impacting customer expectations for self-service, even in complex B2B deals, and the sales team is moving from order takers into being a trusted advisor, or a value-adding consultant.
43% of B2B buyers prefer to buy a product directly from the brand that manufactures it, rather than the distributor that sells it, and 20% of them are willing to pay slightly more for the opportunity to do so.
– Forrester Research, 2017
Measurable results for Manufacturing
The smart manufacturer
Arm your team with the information they need by giving your field reps and customer support agents access to a 360-degree view of all customer information. By digitizing the business, manufacturers can create dynamic B2B and B2B2C storefronts that present real-time, contextual content. The evolution of Industry 4.0 gives manufacturers access to more data than ever before. Connected devices report critical information back to manufacturers, empowering them to deliver real-time support, maintenance, and even upgrade opportunities in a 1-1, customer-focused scenario.
Cater to all your customers – wherever, whenever
Make it easy for your customers to order from you. Modern B2B buyers want the flexibility that comes with omnichannel commerce. Give your B2B buyers access to self-service features, account based pricing and 24/7 access to up-to-date support materials. Increase revenue and deepen customer engagement by taking advantage of direct-to-consumer sales opportunities and new markets.
Leveraging the aftermarket
Opportunities to continuously add value extend beyond the initial sale or service agreement. Savvy manufacturers can optimize their aftermarket sales potential by proactively selling and servicing spare parts, installing upgrades, and delivering training and inspections. Imagine being able to tap into a 360-degree view of your customers that tells your sales team exactly when replacement parts will be required. With an intelligent platform, manufacturers can put the right offers in front of the right customers, at just the right time. Connected devices that can be remotely monitored, combined with artificial intelligence (AI), present additional opportunities to upsell before parts wear down, automatically replenishing orders and avoiding any interruption in service—a service your customers won't get from a commoditized marketplace like Amazon.
Product Information Management (PIM) for omnichannel customer experience management
PIM helps a company create and maintain one record of a product in a database, so it's always up-to-date to be shared and published to all media channels. When product data is in different formats, incomplete, or inaccurate, graduating to an omnichannel commerce platform is impossible. PIM ensures your salespeople and end customers have the ability to view your product information in an up-to-date and understandable format – and can be easily and quickly updated through all channels.
Integrations & extensions for manufacturers
Our extensive experience integrating with ERP, CRM and OMS systems completes the omnichannel circle by letting you connect to the backend user data you already have. Hundreds of integrations to third-party services including payment gateways, email service providers, loyalty programs, fraud detection services, social media and more mean manufacturers truly achieve omni-channel success.
Get up and running quickly with Pivotree Accelerators
When you need to move fast, our quick start accelerators help you hit the ground running. We deliver an affordable, cutting-edge commerce solution that combines the highest-impact features of an enterprise-grade eCommerce system into a compact offering that packs a punch.
Research from Forrester indicates that companies that offer an omnichannel experience with targeted cross-sell and upsell opportunities benefit from higher average order values and more repeat purchases.

"Their industry experience makes them an exceptional service provider for ecommerce. They are a great partner, they have amazing people, and it's been a wonderful journey with them. I have no doubt they will continue to provide exceptional value as we grow."
Sufi Khan Sulaiman
Director of eCommerce and Digital
Astute Technology and Infrastructure Choices for Multiple Needs, Situations and Budgets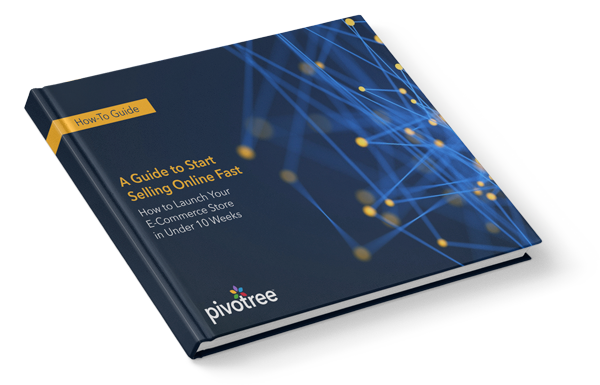 A Guide to Start Selling Online Fast: How to Launch Your eCommerce Store in Under 10 Weeks
In this e-book, Pivotree provides a how-to guide for launching an eCommerce store – in 10 weeks or less – to meet the requirements of a pandemic-shaped world.