Flexible
supply chain management
software and solutions
Your customers demand an experience that requires a flexible supply chain.
Disruption has made it clear that companies need to focus on a supply chain that is resilient and customer centric. Minimize costs and ensure the right order every time with full accuracy, transparency and control over inventory and returns — with zero friction for the buyer.
Deliver fast shipping and frictionless returns with our supply chain management services
Customer habits have shifted, ushering in new levels of expectations. Frictionless commerce depends on supply chain tools and processes that support fast and accurate fulfillment.
Pivotree provides leading Order Management and Warehouse Management solutions that are fully integrated, secure, and flexible enough to grow with the market and meet your customers' demands.
The right platform is one thing, but the right partner is another. With extensive supply chain knowledge and experience, Pivotree enables your business to win and retain customers by keeping your delivery promises and wowing them at every step.
1 https://www.rila.org/retail-speaks.
90% of consumers expect 2-3 day shipping the baseline promise. 1 
Moving at MACH Speed

The MACH architecture allows companies to move away from monolithic lock-ins that are limited in capabilities, and often take forever to upgrade causing unwarranted disruption.
Broken delivery promises due to delays, stock-outs, and canceled orders
Insecure, siloed, and out-of-sync systems
Lack of inventory visibility, accuracy, and metrics
Manual, paper-based processes across operations and reverse logistics
Optimize your WMS and OMS with our supply chain managed services
Leverage our unmatched expertise in implementing, delivery and servicing the world's top order management and warehouse management systems.
Pivotree WMS
Intelligent, intuitive, integrated. Pivotree WMS is a simplified micro-services based architecture that helps optimize, manage, and scale warehouse operations through process efficiency with AI and machine learning capabilities. Seamlessly integrated for various industries and scenarios, including retail order fulfillment, 3PL, B2B commerce, returns management and manufacturing.
IBM Sterling OMS
For companies focused on growth and customer experience, the choice is clear. Sterling Order Management helps transform complex businesses with an advanced and cloud-enabled order management platform that provides centralized, real-time visibility and management of inventory, orders, and omnichannel fulfillment with transparency across the entire supply chain.
Fluent Commerce OMS
Agile and cloud-native, Fluent Commerce delivers supply chain and order management experience including delivery, sourcing and allocation, fulfillment and omnichannel capabilities that moves at the speed of commerce. The solution's fast deployment, ease of use, and scalability make it a perfect choice for an agile and automated business.
Operations and supply chain management that delivers integrated delivery, fulfillment, and returns
Order Orchestration, Capacity and Reverse Logistics
Advanced order orchestration, optimized order routing and seamless returns execution
Operational Efficiency and Supply Chain Sustainability
Warehouse operational efficiency contributing to the latest industry standard ESG initiatives
Demand Planning with Inventory Accuracy and Visibility
Real-time, dynamic inventory accuracy and fulfillment options
Cost Optimization and Risk Response
Recession proof strategies and cost optimization across the entire supply chain
Cloud Enabled and Data Driven Cx
Cloud enabled, AI and data driven insights to support the customer journey
MACH Alliance Partner
Cutting edge, headless technology stack, seamless integration and accelerated time to value
Level up your OMS and WMS with our supply chain management software
In addition to core OMS and WMS, Pivotree offers supply chain tools to help you make the most of your platform and systems.
Pivotree Evolve a Sterling OMS Assessment Tool
Gain an extra layer of visibility and control for your Sterling OMS. Pivotree Evolve analyzes your system and alerts you of any bugs, vulnerabilities, or recommended upgrades to keep your OMS up to date.
Pivotree Control Tower
Pivotree Control Tower lets you monitor all your mission critical applications and business processes in one place. Take better control of your warehouse by monitoring workload and efficiency, so you can reallocate labor or identify and fix operational issues earlier.
Pivotree Connect
Say hello to seamless integration that supercharges your supply chain efficiency. This API-centric, hybrid enterprise commerce platform helps you integrate very complex enterprise systems, no matter their architecture.
250+ Years of Combined Supply Chain Experience
100+ Supply Chain Specialists and Growing
150+ Supply Chain Implementation To Date
How secure is your supply chain software?
System downtime can cost large organizations hundreds of thousands of dollars – per incident. It's time to fight back.
Pivotree Protect is a flexible, cloud-ready solution that helps you prepare, prevent, and respond to increasingly sophisticated cybersecurity threats.
Leverage our frictionless commerce ecosystem
Gain greater value by seamlessly integrating your supply chain with the right data management and commerce solutions.
Combining supply chain visibility with a single source of data truth can take your business to a new level. Pivotree empowers brands to master their data and unlock their digital potential with end-to-end data management solutions.
Pivotree provides Digital Commerce Solutions that enable customer-centric services designed around your unique requirements. Learn how the right mix of strategy, technology, and processes can power your digital ascent.
Explore Pivotree Supply Chain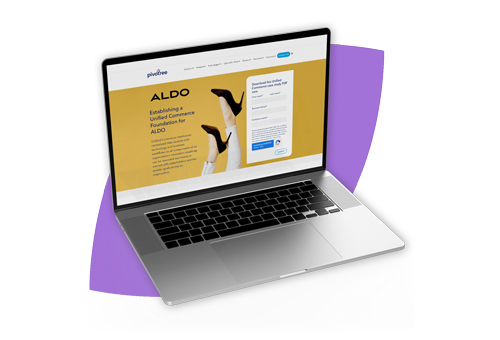 Pivotree Supply Chain Management: Innovating for Frictionless Commerce