Transform your business so customers trust they can find, buy, and get what they want, where they want it — every time.
Frictionless commerce isn't just another term.
We know what you may be thinking. "What is frictionless commerce? And do we really need another commerce term?"
Frictionless commerce is not some new catchy descriptor. Frictionless commerce represents a full transformation of the entire commerce ecosystem, impacting your business, your processes, your customer relationships, and your bottom line. And our mission is to help businesses like yours be fully prepared to make this transformation.
So what does frictionless commerce mean?
It means every transaction will be digitally assisted. It means reducing the number of hands touching the products. And the amount of guesswork about how much product to stock and where to stock it.
It requires reliable data that powers every step of the transaction — from the product details on the website, to determining where a product should be shipped from, and informing the right strategy for reverse logistics.
In other words, when data powers your strategy, commerce technology, and supply chain — your customers win.
How Pivotree Brings
Frictionless Commerce to Life
Our approach is unique. We look holistically at how data, supply chain, and commerce technology—coupled with digital solutions—can create a frictionless experience for customers.
1. Find
Ensuring customers have all the information they need to find the right product for them requires a foundation of reliable data available everywhere people browse.
Learn more about how Pivotree's team of Data Management experts ensures product information can help drive higher conversions at every touchpoint.
2. Buy
Whether your customers buy online, in-store, or through a distributor, the right commerce platform makes the purchase frictionless. When data, supply chain, and commerce technology are seamlessly integrated, buyers experience the widest selection of products, available wherever they want to shop.
Learn how Pivotree's Commerce experience drives higher sales for B2C, B2B, and B2B2C clients across industries.
3. Get
Today's shoppers expect a range of options for how to receive the products they buy. Whether they try before they purchase, buy online and pick up in store, or ship to a locker, customers want to receive their products in a variety of ways.
Learn how Pivotree's Supply Chain practice works with brands, retailers, and distributors to provide a frictionless experience for customers, however they want to get their items.
4. Trust
Your customers want to trust they can find, buy, and get the products they want, every time they shop — as well as trust that businesses will keep their financial and personal data safe and secure.
Trust is essential to our customer relationships, too. Learn how Pivotree's Digital Solutions practice helps businesses manage complex initiatives through experience strategy design, end-to-end oversight, and an expanding portfolio of innovative digital products and managed services.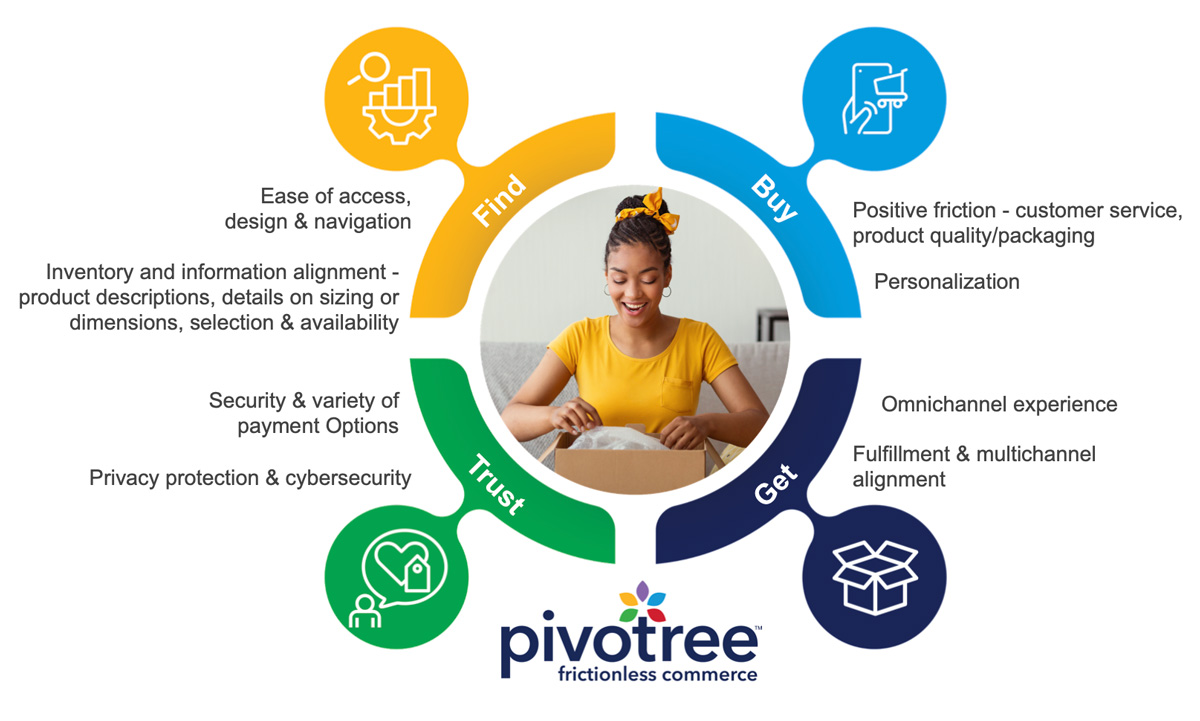 When Friction Holds You Back, Our Experience Strategy Group Can Help.
Benchmarking
Understanding what to focus on and how to measure it is a critical starting point. Pivotree provides a blueprint for enterprises to view their performance and align their activities for the best results.
Discovery
We help identify which elements within your commerce value chain are friction choke points and revenue leaks — plus the impact of that friction and how to reduce it.
Digital Enablement
Digital transformation presents endless opportunities — but what makes the most sense for your business? Pivotree works with you to identify your critical value stories and how to execute them in your business, including mastering organizational change.
Design
Designing the ultimate customer experience is both a science and an art. Together, we'll remove friction from all facets of your business, giving you the agility to deliver the effortless, personalized experiences your customers will love.
Methodology
Ready to shorten the distance between your producers and customers? Pivotree's proven frictionless commerce methodology helps identify, prioritize, and resolve your pain points in the most cost-effective way
Finding Frictionless
What does Frictionless Commerce mean in commerce ecosystems, for organizations and customers? Bill Di Nardo (CEO, Pivotree) tells us more.
Frictionless Commerce Ecosystem Defined: From Strategy to Impact
Want to know what 3,800 consumers think about frictionless experiences? Get a snapshot of our survey findings, conducted by Environics Research, and Pivotree's insights on the pillars of Frictionless Commerce.