Fluent Commerce Order Management System (OMS)
Agile and cloud-native, Fluent Commerce delivers supply chain and order management that moves at the speed of commerce.
Pivotree and Fluence Commerce help you profitably fulfill omnichannel demand with a scalable SaaS solution
Fast, reliable delivery is non-negotiable for today's consumers. But how can you keep your delivery promises without a clear view of your supply chain?
Fluent Commerce provides the agile order management solution you need for complete inventory visibility and frictionless fulfillment.
With deep commerce and supply chain expertise, Pivotree helps companies achieve a rapid time to value with their Fluent OMS implementation. We work closely to ensure you meet your OMS objectives, including increased visibility, accuracy, and profitability.
Benefits of Fluent Commerce OMS
Fluent Commerce shines in the areas of fast deployment, ease of use, scalability, and a platform specifically designed for the ever-changing commerce landscape.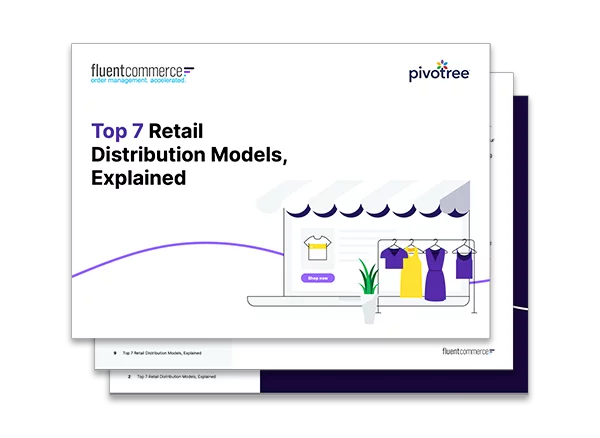 The Top 7 Retail Distribution Models, Explained
You have products to sell. And customers that want to buy them.
But do you know the best ways to get your products to your customers— in a timely and
cost-effective way?
With so many distribution models, it can be difficult to choose the best one for your business and keep your promises to your customer. Let's explore the top 7 retail distribution models that you may want to consider.
Fluent Commerce features designed for the future of commerce
Fast deployment
Pre-built rules templates and accelerators—like BOPIS, Home Delivery, and Click & Collect—help you roll out quickly for a faster return on investment, plus respond rapidly to changes in demand or delivery capacity.
Flexible platform
As a cloud platform with a flexible API architecture, Fluent allows you to fully customize the solution to fit your omnichannel strategy, so you can keep the processes that make you unique.
Cloud-native scalability
Dynamic scaling amps up the processing power, helping you grow with confidence that your OMS can evolve with your business.
Pre-Built Connectors
Available for seamless integration to capture the order.
Inbuilt Store Order Management
Tailor your pick-and-pack strategy to meet your store's needs. Leverage a single hub to print pack lists and shipping labels, plus manage customer collection, couriers, and returns.
Why should you choose Pivotree for your Fluence Commerce implementation?
Your Fluent OMS partner with 250+ years of experience.
As a premier Fluent Commerce partner, Pivotree is unmatched in delivering successful Fluent implementations to enterprise-level companies worldwide — including the most complex Fluent OMS projects to date.
Our proven methodology and defined processes draw from deep OMS expertise and 250+ years of combined experience.
Robust, strategic roadmap and multiple delivery model options.
Phased approach with special focus on defining your MVP — leading to shorter go-lives and faster ROI.
A single point of contact for your end-to-end needs—from discovery, implementation, go-live readiness, and warranty support—plus next generation managed services.
A host of seamlessly integrated solutions to extend your ecosystem, including Pivotree WMS, Pivotree Connect and Pivotree Control Tower.

5 Key Success Factors for Fast Retail Delivery
Consumers want their goods—fast. And when that order arrives, they expect it to be right. Are you confident that you are offering fast, reliable delivery?
Watch our On-Demand webinar to learn the 5 key success factors for fast retail delivery.
Ready to talk to one of our OMS specialists?