Warehouse Management System
Retail and Wholesale Distribution
Intelligent, intuitive, integrated.
Designing and operating a high performing supply chain network, whether it's for B2C Omni-Channel or B2B fulfillment, can be a daunting task. An ideal solution should integrate all the supply chain channels, that may include DCs, Regional Hubs, and any other facility type, assimilating data and streamlining warehouse operations.
Pivotree WMS provides an advantage over its competitors because it offers a modular and complete solution for inventory operations, offering end to end coverage of fulfillment related functional areas, flexibility to personalize based on business needs, and scalability to accommodate rapid organization and demand growth. Remove the complexity and friction from your Retail, Wholesale and distribution channels and deliver on supply chain excellence.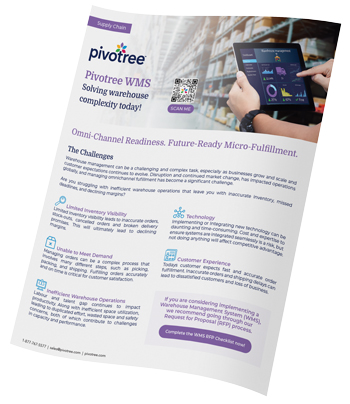 Would you like more information about our Warehouse Management System?
We would love to provide you with more details.