The Warehouse Management System for the future of commerce
Retail Fulfillment, Wholesale Distribution, and 3PL in a single, scalable WMS.
Introducing Pivotree™ WMS, transforming warehouse operations for a frictionless supply chain.
Intelligent, intuitive, integrated.
Has your warehouse solution kept pace with your growing business operations through disruption and beyond.
Look no further than Pivotree WMS. Built for the future, our proprietary MACH certified WMS eliminates friction by reducing costs and improving operational efficiency. Sophisticated yet simple to use, the platform features a robust cloud architecture. with integrated AI and Machine Learning capabilities that allow for continuous improvement, adaptation and self-healing.
One-Stop-Shop for Diverse Warehouse Management
WMS for Retail Fulfillment
Configurable for whatever your retail business needs. Adaptable for an ever­ evolving supply chain.
WMS for Wholesale Distribution
Manage Wholesale Distribution for B2B operations and OEMs.
WMS for 3PL Fulfillment
Tailor compliance requirements and processes for different companies within a single warehouse.

Fulfillment Network Facilities Management
Accelerate onboarding of new fulfillment channels – DC, Store Backroom, and Dark Stores
Maintain multiple facilities on a single instance and easily configure users to manage multiple facilities types
Compare productivity across facilities to identify improvement opportunities
Reduce incremental cost of network expansion and managing business growth

Operations Management
Automate the task management process within warehouse, assign task based on the user skills and equipment preference
Optimize tasks execution through interleaving and based on intelligent consolidation considering – equipment, zones, task types etc.
Manage data of equipment, users, space, and overall resource utilization for identification of saving and scaling opportunities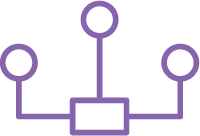 Process Modeling and Optimization
Visual Process Modeling and Config Tool for Inbound, Outbound, Work Order and Inventory Management processes
Define multiple workflows to accommodate complex business needs
Achieve warehouse setup and process workflows with minimal user training

Fulfillment Optimization
Optimize shipping cost by consolidating the outbound shipment to ideal size containers
Select ideal shipping service for retail orders by integrating with rate shopping softwares
Integrate with robots, automation devices and material handling equipments for supporting scalability through automation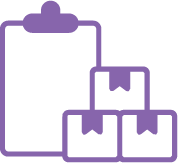 Inventory Tracking & Handling
Track Incoming, Storage and outgoing inventory in near real time
Synchronize inventory snapshot with upstream systems to achieve near real-time inventory visibility and perfect order fulfillment
Manage inventory movement based on expiry date (FEFO), receipt date (FIFO), or any other attribute
Maintain Inventory Accuracy for promising using custom count programs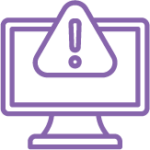 Alerts and Monitoring
Monitor order status and enable alerts based on business specific rules to avoid missing of any SLAs
Track warehouse operations in near real time to ship orders on time and avoid any penalties
Monitor all efficiency parameters, to ensure warehouse is operating at full capacity
Our Warehouse Management System Results by the Numbers

300+ combined years of supply chain experience
200+ distribution centers onboarded
60+ supply chain specialists
global presence across 5 continents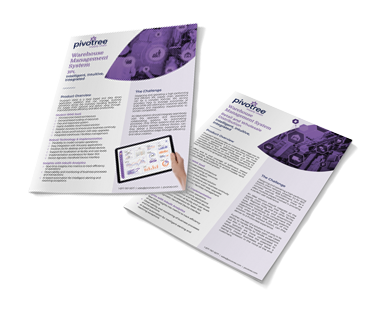 Let's explore your supply chain friction points together.
Connect with us to discuss the friction points in your supply chain operations. We'll work together to achieve greater productivity, visibility, and control. Pivotree is here to help through listening, collaborating, and co-creating the right solution for your growing business.