A Journey To Headless Commerce
Michael Kors, a luxury fashion and lifestyle brand, operates over 800 retail stores in 35 countries and boasts a rich omni-channel funnel that brought in $4.4 billion in total revenue for FY2017. In early 2016, they undertook a global shift to headless commerce architecture. The primary goal of the restructuring was to streamline their development and business processes, ultimately allowing the retailer to build a redesigned, responsive site for their customers.
With the goal of optimizing their hosting capabilities for the new site, Michael Kors worked with Spark::red (now Pivotree) to design, configure and host their Oracle Commerce/ATG environment throughout the process.
Modernized Digital Architecture
Support for Future Innovation
Michael Kors' rapid retail growth was paralleled in the expansion of their digital architecture. To keep up with this growing international demand, they expanded their digital presence and capabilities of michaelkors.com, across more than a dozen countries on the Oracle Commerce/ATG platform.
Leveraging the extensiveness of the platform and other dependent technologies during such rapid growth contributed to intricate interdependencies in both the front-end and back-end of the architecture. Designing and implementing a compelling new mobile cart feature or simply ensuring that marketing efforts were aligned globally, often required weeks of careful planning and coordination. Accommodating mobile-driven changes within the old structure, required managing and hosting the mobile and desktop websites separately – an inefficient practice they were eager to change.
In addition to revamping their development architecture, company leaders knew it was time for a site redesign and a universally responsive website. They needed to maintain a strong, consistent brand experience across all digital platforms while re-examining the original structure and build. The conclusion was a headless architecture approach.
Michael Kors' digital team understood that in order to continue innovating in the field, there would need to be significant updates to their digital architecture and processes.
From the business standpoint, the primary goal was to deliver an intuitive, easy to use, rich, modern user experience to Michal Kors' customers regardless of screen size, device used or location. Other goals included:
Reduce level of effort for future enhancements
Enable APIs to support future innovation
Be able to deliver features faster
Create an efficient onboarding process for new developers
Eliminate dependencies on back-end technologies
Challenges
Growing International Demand
Inefficiency due to mobile and desktop websites being hosted separately
Too many dependencies on back-end technologies
Solution
"Headless" or "decoupled" architecture (decoupling the presentation layer from the business logic)


Oracle ATG Commerce
Outcome
More efficient testing and verification

Ability to pursue "mobile-first" strategy


Can now continuously implement state-of-the-art, widely-adopted front-end tools

Attracting more motivated, driven employees to the company
After evaluating a variety of technologies, Michal Kors' team identified "headless commerce architecture" as the right solution. "Headless" or "decoupled" commerce architecture would entail a complete standardization of their codebase that would also compartmentalize and optimize front-end features. Certain front-end features and integrations could then be synced and customized with the back-end as needed.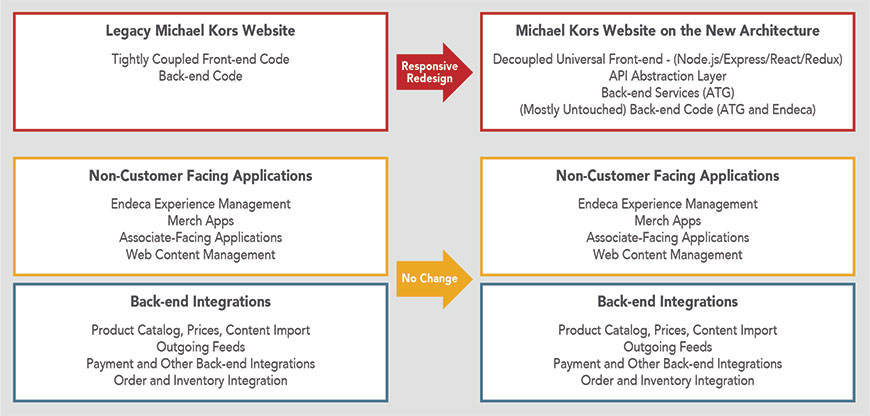 Running a decoupled front-end on Oracle Commerce/ ATG would allow them to leverage the strengths of their existing codebase while liberating themselves from its limiting back-end requirements. As integrations across web and mobile would no longer be interdependent, it became possible to change the way the team used them, taking advantage of their full power.
With these goals in mind, they worked closely with Spark::red (now Pivotree) to expand and optimize their existing Oracle Commerce/ATG environment to support additional technologies. This provided hosting stability and support for the back-end systems, allowing Michael Kors' team to focus on digital innovation and delivering excellent user experience to their customers.
The "headless", or decoupled, architecture, would allow them to streamline the entire digital model, enhancing everything from their user interface, analytic capabilities and development models. By decoupling the presentation layer from the business logic, they could give their company the freedom to innovate with more efficiency.
The successful deployment of headless architecture allowed Michael Kors to achieve standardization across all regions on all devices.
They leverage this intelligent configuration to conceive, test and implement updates quickly within each layer, individually, as needed. The implementation of a single codebase enables their development teams to:
Integrate third party software seamlessly
Innovate in order to support future devices, operating systems and browsers more easily
Execute smaller, faster releases, allowing for more efficient testing and verification
Manage digital environment more cost effectively thanks to increased scalability
Running the desktop and mobile sites on a single codebase enables Michael Kors to pursue their "mobile- first" strategy with significantly more ease – a powerful tactic for a company funneling in nearly 65% of web traffic through mobile.
We have over 20 sites, nearly a dozen languages and multiple currencies. Moving towards a single code base was essential to streamlining testing and release management which in turn allows Michael Kors' team to continue delivering superior user experience to our online shoppers.
In addition to broad development and marketing benefits, the new structure has allowed Michael Kors to prove their commitment to innovation for both design and business. Modernizing digital architecture sparks continuous implementation of state-of-the-art, widely-adopted front- end tools – an attractive feature to draw the most motivated, driven employees to the company.
Michael Kors is an amazing brand with loyal customers across multiple continents. Their move towards headless architecture is just one of many examples of the company's commitment to delivering superior experience to those customers at every touchpoint. It was an exciting project to be a part of and I am looking forward to our continuous collaboration.
Moreover, deploying powerful, consistent brand experiences is now a simple, streamlined process. Moving forward, the strength and agility of Michael Kors' strategically-designed, agnostic front-end and fully optimized back-end will allow them to continue aligning their IT and business goals.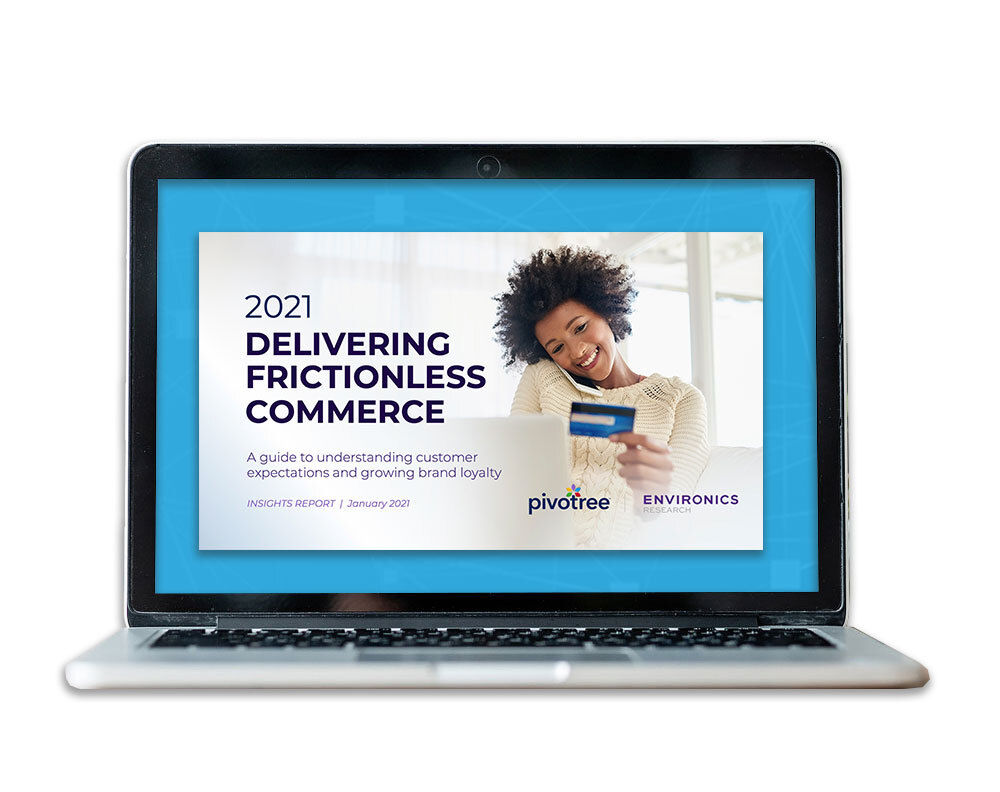 Report — Delivering Frictionless Commerce
Want to know what 3,800 consumers think about frictionless experiences? In this 2021 research study report, we dive into the six dimensions of frictionless commerce and show businesses how they can optimize the digital customer experience.