Are you reading this in 2019? SAP's offerings evolve and grow constantly, and we have a new blog post on how SAP Marketing, Sales, and Customer Data Cloud work together in their front-office suite, C/4HANA. Click here to check it out!
---
SAP Hybris Marketing is one of five front end components that helps companies better understand their customers and become more efficiently engaged with them across all channels and touchpoints.
By combining tracked data online and offline (like from your CRM), you can develop insights and dynamic 360-degree customer profiles that help you easily provide more contextual, customized experiences – leading to a better user experience and ultimately increased conversions.
This digital marketing platform works in conjunction with SAP HANA and SAP Hybris Commerce. Working with SAP Hybris CRM and behavioural marketing analysis, Hybris Marketing covers all the necessary categories for any good target audience identification and marketing planning.

With SAP Hybris Marketing, you can drive your marketing efforts based on site performance, visitor behaviour, and ROI. Real-time data and self-service analytics allow you to quickly identify and respond to new opportunities, empowering you to deliver individual customer engagement to a mass audience by consolidating customer information into a single view. It becomes easy to identify intent and motivations, discover hidden trends, and deliver contextual, relevant customer experiences throughout the customer journey and across multiple touch-points.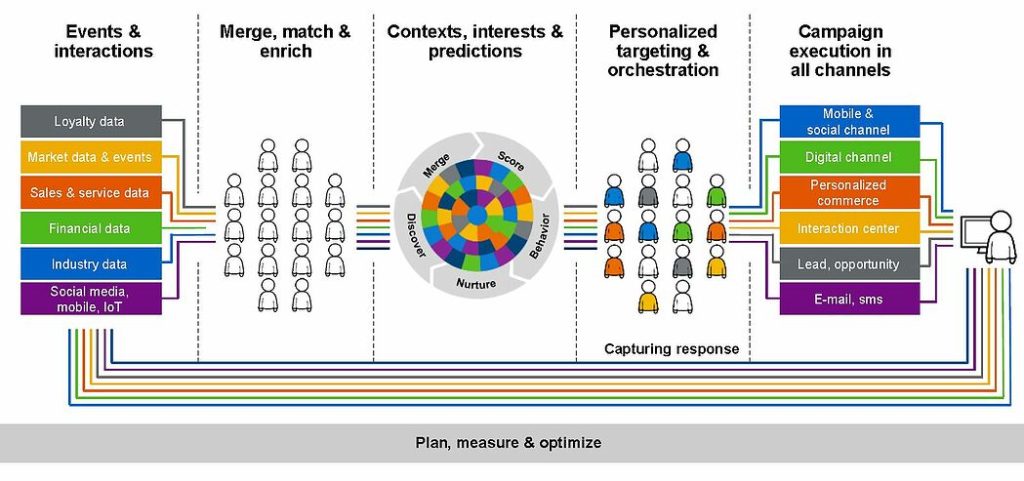 (image from: http://blog.acorel.nl/2017/02/introducing-sap-hybris-marketing-in.html)
Key Features:
Out-of-the-box multi-wave, multi-channel support for campaign success reports for built-in channels: SMS, SM, personalized commerce, sales leads and opportunities, paid search and more
Enhanced analytics capabilities for flexible operational reports
Marketing Executive Dashboard for real-time insight on overall marketing performance
User-friendly analytics apps for marketing experts: Lead Dashboard, Behavior Insight, Whitespace Analytics, Customer Journey
Insight, Sentiment Engagement and Marketing Calendar
SAP BusinessObjects Cloud integration enables intuitive visualization through dashboards and storyboards
High-volume segmentation tool that lets you analyze customer data and create dynamic profiles while working with the most up-to-date customer and prospect transactional and behavioural cross-channel data
Deliver targeted, relevant consistent offers and messages across channels
Automated trigger-based campaigns that capture and react to customers' interactions
Programmable scoring rules that let you track and score customers' interactions
Create, train and maintain predictive KPI calculations for deeper insight into each customer
Customer journey insight for real-time views of the most common paths-to-purchase/conversions
Benefits:
Increase revenue, customer satisfaction and ROI with a deeper understanding of the customer journey
Predictive, advanced analytics help you focus on the right audience and eliminate unnecessary marketing spend
Enable in-moment customer experiences across all channels and touchpoints, based on real-time insights and context
Improve campaign response time based on real-time data and insights
Empower marketers with access to self-service analytics that let you manipulate and explore data and gain in-depth insights about your customers' and prospects' motivations, intentions and behaviour
What this really means for marketers:
Identify and target customers with the highest propensity to buy
Customize your customers' context marketing content based on their profile, trends, campaigns, events and real-time data
Extend your Facebook reach to lookalikes of your top customer profiles
Optimize your campaigns with in-the-moment insight and the ability to make dynamic changes
Pinpoint targeting with predictive capabilities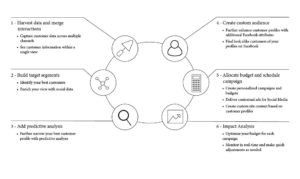 As a marketer, this level of detailed customer data can allow you to really target the best customers through effective segmentation and deliver campaigns and content that will connect with them more personally. Not only does this set the foundation for higher conversions, but it allows you to build a stronger relationship, relate to each of your customers more directly, and develop more brand loyal customers and brand ambassadors organically.
Contact us to learn more about how SAP Marketing can help you deliver more contextual marketing experiences.
Personalized SAP Upgrade Guide – SAP Commerce Cloud
Is an SAP Commerce upgrade to the SAP Cloud on your 2021 wish list? We have the details you need to explore your options.