2023 Frictionless Commerce Guides to Drive Scalability
Drive Scalability and Peak Demand Readiness with Frictionless Commerce
If there's one thing we've learned from peak demand periods in eCommerce – holiday shopping seasons, pandemics, or even big-ticket events such as the Super Bowl – it's the need to be proactive and not reactive. Big cliché? Sure. But truer than ever.
US consumers spent a record

USD 212 billion

on online shopping during the 2022 Holiday Season.

Online sales increased by

43%

during the first year of the pandemic.

Snack sales jumped

10.5%

during Super Bowl Week 2022.
In these situations, businesses either find themselves ahead of the curve or struggling to catch up during these surges, and the big difference – scalability.
Our 2023 Frictionless Commerce Guides tell you how to achieve scalability to make your business future-ready and ready to go when these opportunities arise. We lead with the best commerce, supply chain, and data management services and solutions. So dive right in and check out our guides. 
Why Download These Guides?
Easy to understand, yet relevant to YOUR business

Inputs from some of our Frictionless Commerce experts

Actionable insights
2023 Frictionless Commerce Guide: Data Management
A high volume of data leads to data chaos. Instead of turning to more technology to solve your data problems, you'd rather leverage your data by addressing:
Data quality issues

Poor data interoperability

Technical debt

Automation opportunities
In this edition of the Frictionless Commerce Guide, we tell you how to leverage data as an asset during peak demand periods.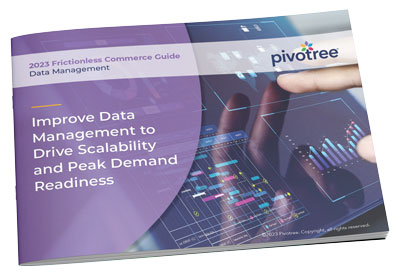 2023 Frictionless Commerce Guide: Supply Chain
Whether it's the perfect storm of disruptions, like during the pandemic, the Suez Canal incident, or even geopolitical unrest, we can safely say we've seen it all. Throw high demand into the mix, and you find yourself struggling to manage your supply chain. 
In this Frictionless Commerce Guide, we chart the roadmap to combine the following and help your business deliver on the customer promise consistently:
Technical readiness

Operational readiness

Disaster planning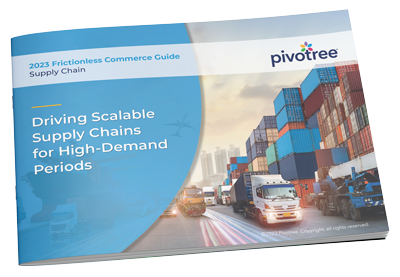 2023 Frictionless Commerce Guide: Commerce – COMING SOON
High volume combined with evolving customer demands are leading businesses towards composable commerce. In this ecosystem, scalability and performance mean connecting the dots between:
Inventory management 

Customer support

Payment processing

Security concerns

Mobile optimization

Returns management
…and everything in between. This edition of our Frictionless Commerce Guide will show you how to get there!