Operations Excellence and Efficiency Year-Round
✓ Accelerate efficiency
✓ Streamline operations
✓ Gain 100% visibility
Transforming Your Fulfillment Operations Together
Your mission — to help Canadians feel comfortable in their home, workplace and community by keeping them warm in the winter, cool in the summer and providing an endless supply of hot water.'  — is top of mind at Pivotree as we strive to help you deliver frictionless customer experiences with Reliance products and services year-round.
As you look to digitally transform fulfillment operations you require a supply chain solution that offers comprehensive visibility across systems while enhancing operational efficiency and delivering extensive insights and robust reporting capabilities at both the local and corporate levels.
Pivotree expertise and our proactive approach to omni-channel fulfillment services set the stage for data-driven decision-making and seamless alignment between business priorities and the customer journey.
We are delighted to have the opportunity to partner with Reliance to provide a centralized view of inventory, fulfillment, and distribution and to help Reliance enhance its technology capabilities, significantly improve its processes, and create valuable impact. Our prescriptive plan promises to deliver on 3 key areas of focus: better analysis of inventory performance and accuracy, data processing error-reduction, and labour efficiency improvements. 
During Heat Waves and Cold Fronts: Performance Without Compromise
Pivotree WMS + Control Tower
The combination of Pivotree WMS and Control Tower will enable Reliance Home Comfort to better analyze inventory performance, improve inventory accuracy, reduce data processing errors, and improve labor efficiency.
Improve operational performance
Improve inventory visibility
Improve labour efficiency and productivity
Reduce cost and technical debt
A modular WMS with advanced warehouse microservices and capabilities to efficiently manage your warehouse, inventory, fulfillment and distribution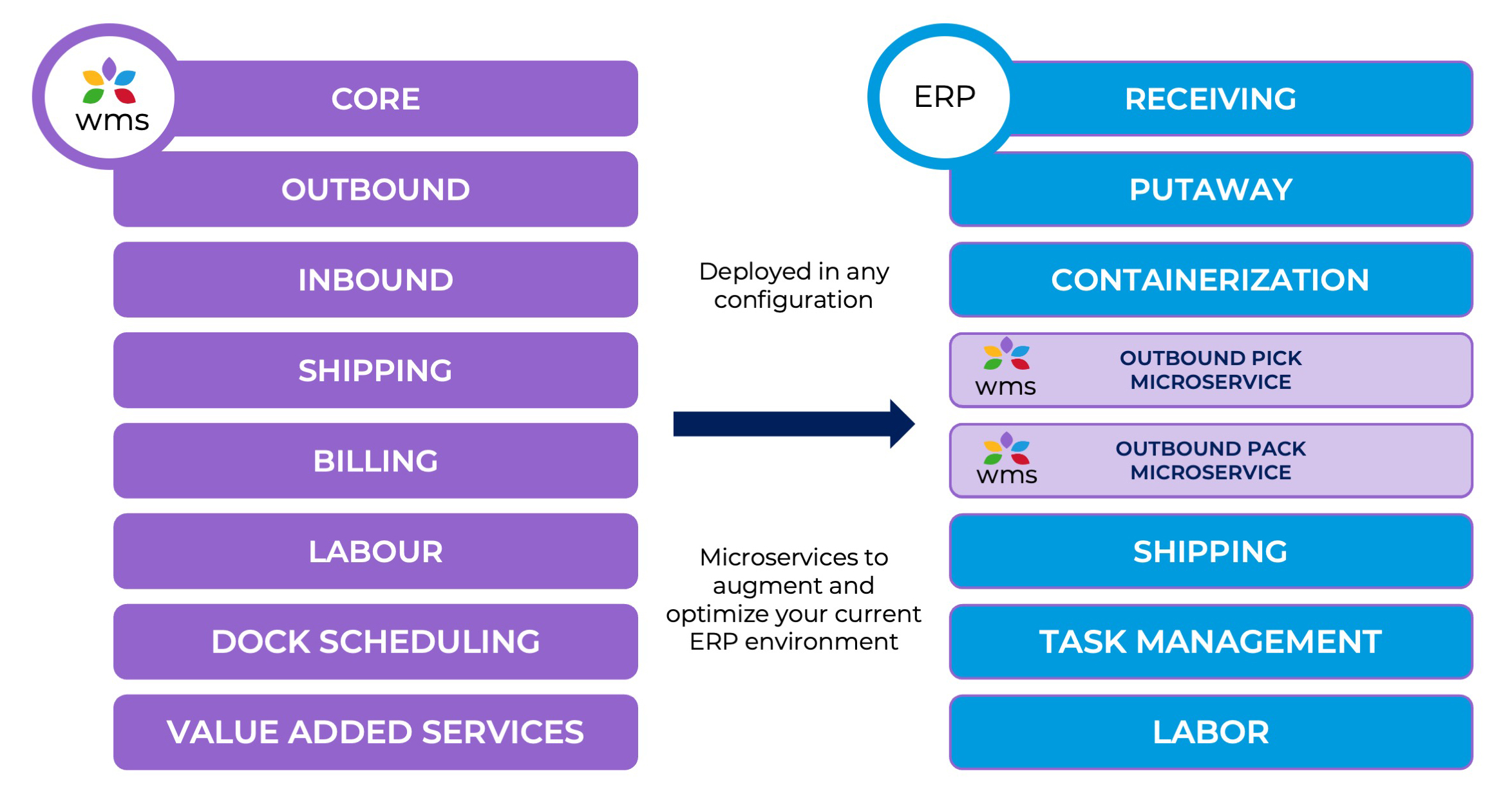 Complete observability over your entire commerce ecosystem in near real-time. Answer any of your most important questions about your business and the health of your systems and
technologies. Gain strategic insights, improve your business and directly impact your end customer's brand experience.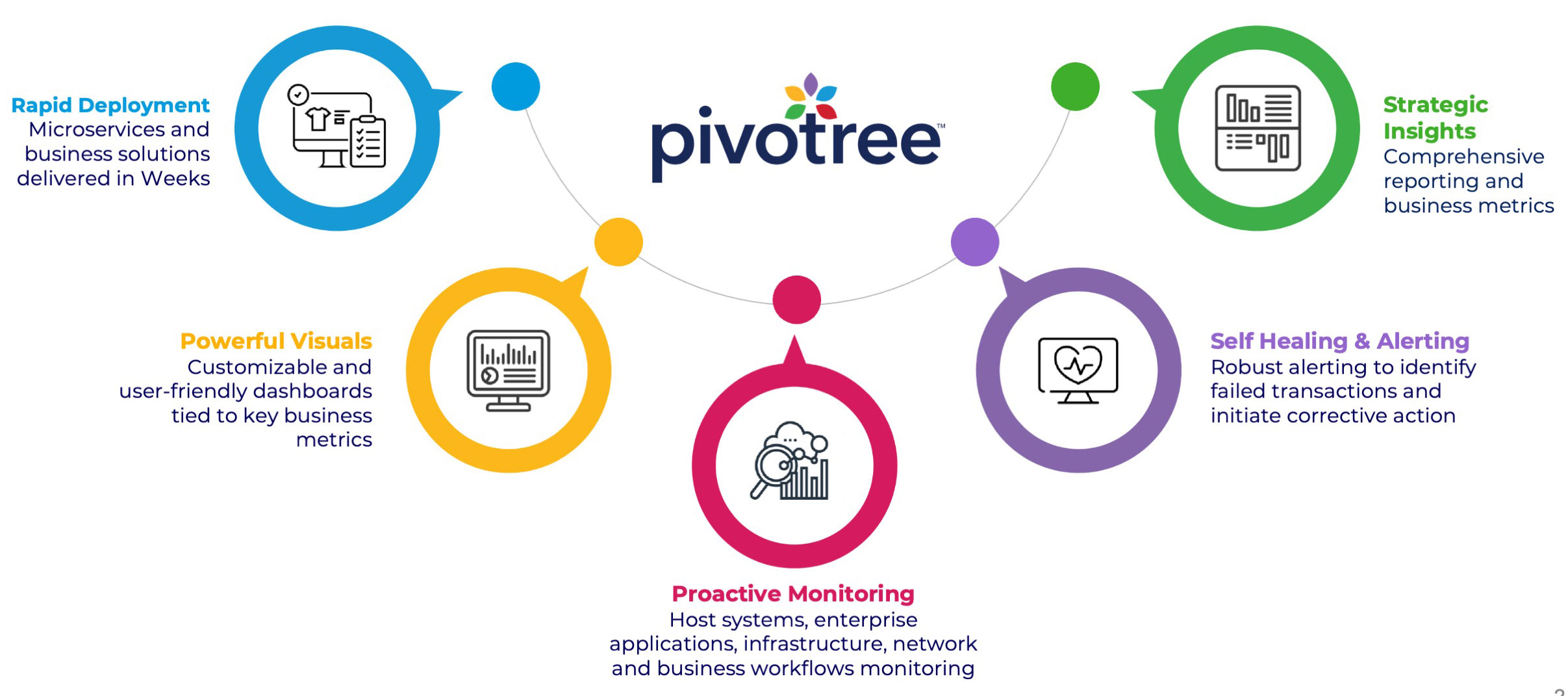 Better Together: The Benefits of an Integrated WMS + ERP + Control Tower
Dashboards to meet specific needs at every level of the organization, contain
at-a-glance metrics with quick drill-down menus to uncover detailed trends and valuable
insights to deliver on your organizational objectives and KPI's.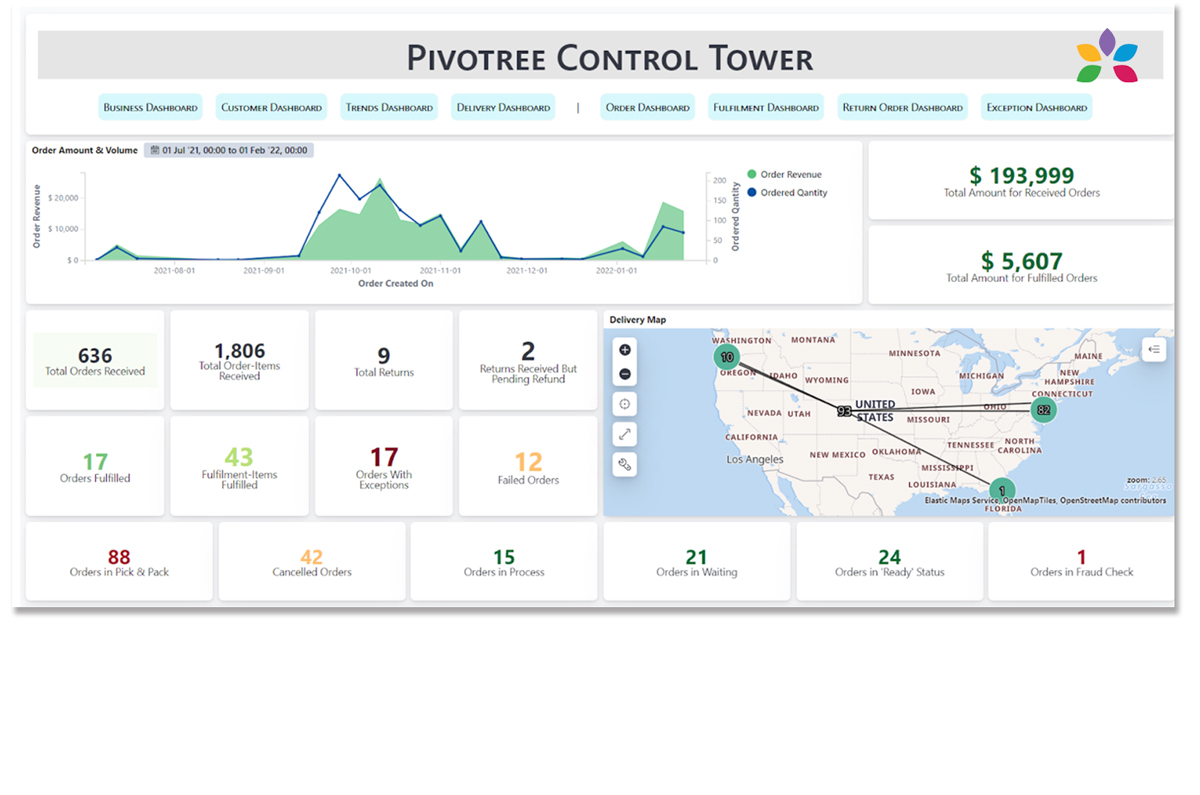 Customizable and user-friendly dashboards allow you to monitor the health of your processes, identify the gaps that need to be addressed and make informed data-driven decisions for better business outcomes.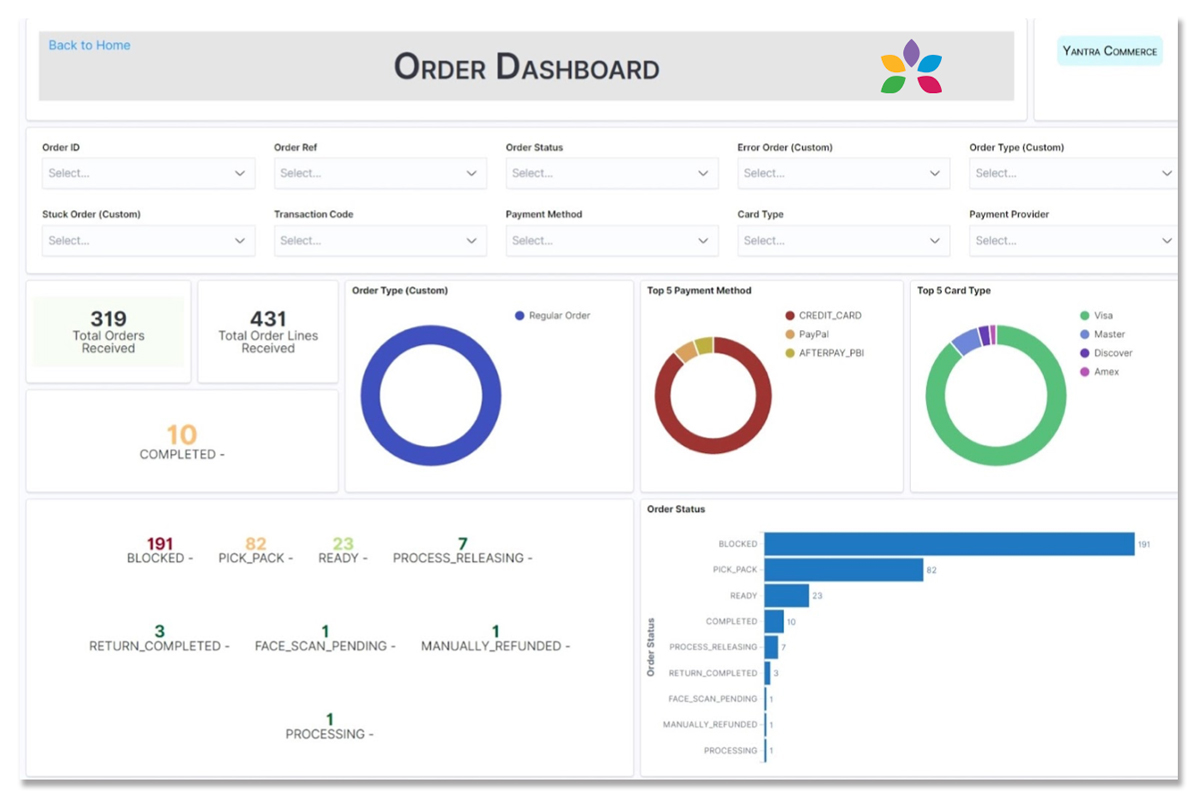 With multiple ways to filter orders and see the status of every stage in the fulfilment cycle, this dashboard gives you greater insight to positively impact order fulfilment rates and improve customer experience.
Extra Resources and Information