Explore Cloud Services Through the Elastic Path Ecommerce Platform
Named a Visionary by Gartner Research for 3 years in a row, Elastic Path Commerce provides the open, modular, and flexible approach B2C and B2B brands need to compete.
Elastic Path Commerce is the first true microservices-based ecommerce platform. It enables the creation of innovative, unique customer experiences and is the ideal platform for companies expanding beyond the traditional web store. Now on the cloud, it offers the necessary stability and scalability to grow your business and provide reliable experiences for your customers, even during your busiest seasons. The Elastic Path Commerce Cloud platform supports operations through any channel – videos, mobile apps, augmented and virtual reality, virtual assistants, the Internet of Things, and more.
Experience the future of commerce with Elastic Path's API first approach
Wouldn't it feel great to break free? Now, with Elastic Path, you can. They've built the Cortex Hypermedia API to support any touchpoint, any front-end, and any back-end or legacy system.
It's time to untether yourself from legacy systems and seize new opportunities for innovative operational changes. With Elastic Path Commerce Cloud, you can pick and choose technologies to create unique customer experiences that give you a competitive edge. This freedom fosters an adaptive culture in your organization, allowing you to thrive as the commerce landscape changes.
Why Implement Elastic Path Commerce Cloud with Pivotree?
Our Independent Headless Commerce Expertise
We have extensive experience on the framework, so accomplishing the requirements of implementation is clear-cut and requires no new skills or training. This makes us unique from other SIs who lack the same level of expertise.
Our Experience Integrating with Complex Back-End and Front-End Systems
Pivotree has a proven track record delivering unique, custom projects working with IoT integrations, marketplaces, complex payment integrations, social, and more.
Our Customer For Life Philosophy
Our "customer for life" philosophy means we prioritize getting to know your business. From the first steps of strategic planning all the way through post-implementation support, we work closely to understand your brand, people, and needs. By building a partnership of trust, you'll be able to rely on us for some of the most important aspects of your business – like future upgrades and re-platforming, rebranding, essential seasons like cyber week and Christmas, and beyond.
Out-of-the-Box Core Commerce
Merchandising
Search and Browse
Pricing
Bundling
Order administration
Cart and checkout
Customer profile & more
Complex Catalog Management
Import and consolidate supplier catalogues
Configurable products
Ability to create bundles from different suppliers and sell them as your own product
Flexible Payments
Multiple Payment Gateways
Different payment methods, flows, and processes
Easily set up promotions with recurring prices
Discount periods tailored to each buyer
Sophisticated Promotions
Create differentiated
customer experiences using:
Customer profiles
Purchasing histories
Items added to the cart
Shopping context to create differentiated customer experiences
Global Readiness
Support new geographies by configuring:
Product Catalog
Currencies
Languages
Watch this video to learn more: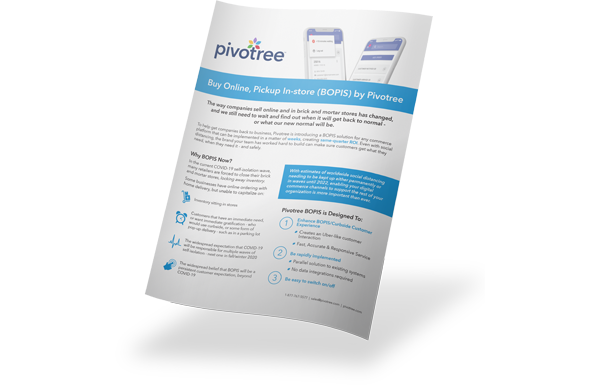 Buy Online, Pickup In-store (BOPIS)
Get back to business with BOPIS and Curbside Management
Do you have brick-and-mortar stores with inventory to sell, and cannot currently do so through your e-commerce platform? Our solution can be rapidly integrated with ANY commerce platform, and can get you back to business within weeks.In this product brief, we detail the different features of our BOPIS solution. You can pick and choose only the components that you need to enable a safe and socially-distanced commerce experience for your customers, streamlining implementation and training time.
Start delivering the future of Customer Experience, today