Many retailers spend a lot of time (and money) actively engaging their customers via ads, promotions, and physical store design, but still end up falling short when their customer calls into their call center.  Why does this happen?  In many cases, it is simply because their Customer Service Representatives do not have the right tools, visibility, and information at their fingertips.
No matter in which channel an order is placed, your customers expect the inventory information that they view to be accurate, their orders to be delivered to the correct address, and the promised delivery dates to be met. In this article, we will discuss the tools and functionality that the IBM Sterling Call Center application provides which will enable your CSR's to engage and help your customers better.
Just as important as features and functionality, is the platform on which an application is built.  Call Center utilizes a platform shared across several key IBM technologies including IBM Sterling Selling and Fulfillment Solution (SSFS) and IBM Sterling Networked Warehouse Management System (nWMS). Because of this, many of the key features of the platform are shared with the call center product:
Rich functionality – Call center provides easy-to-use and robust functionality like process modeling, order sourcing, inventory management, and proactive monitoring.
Ease of upgrade and deployment – Unlike many packaged applications, IBM Sterling products are easy to upgrade even with a high level of customization and enhancement in place.
Robust Product Suite – The Call Center is fully integrated with several best-of-breed IBM Sterling solutions including IBM Sterling nWMS, IBM Sterling OMS, reducing overall time-to-market. (See figure 1.1 below)
Simplified External Integrations – The product is rich in features designed to simplify the integration points between external systems, including front-end, payment, and address verification systems.
Robust User Interface—The product has a Rich Client Platform (RCP) based user interface to capture orders and handle call center order modifications.
Figure 1.1 – A fully integrated COM implementation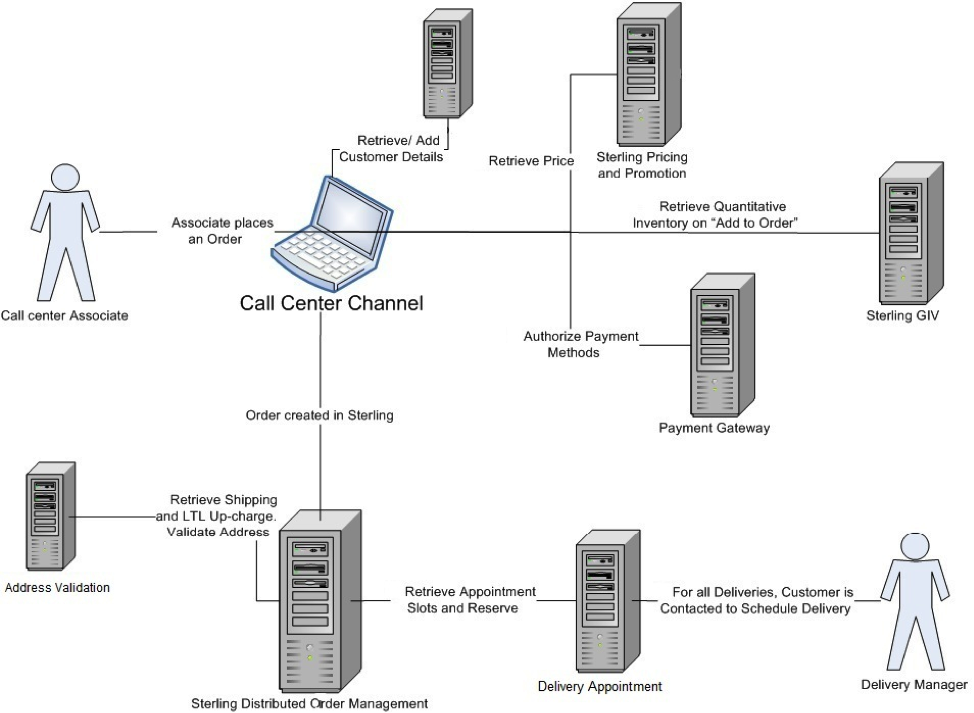 So now that you understand some key benefits of the product platform, let's take a look at some supported CSR functions that many CSRs do on a daily basis:
Handle Alerts – 

You can create new alerts in the system and log notes for future reference. The users can view a list of alerts that are due for a follow-up, all open alerts that are categorized by alert types, and all queues to which the current user is subscribed and then take necessary actions.
Perform Searches – Users can perform advanced order, advanced customer, and advanced item and return order searches and also refine the search criteria using additional options available to view more detailed order, customer or item information.
Execute Order Tasks – CSRs can create or modify orders, and perform various tasks like canceling the order, initiating returns, adding items, creating notes, price matching and promotions, and accepting various payment methods.
Execute Customer Tasks – Users have the ability to create business and consumer customers, define multiple business-to-business (B2B) contacts for a customer and select the contact or contacts with whom they want to work. They can also modify and delete contacts, define spending limits and approvers for a contact, and view and add notes about contacts.
Perform User Management Tasks – Users can, if they have the necessary permissions to access this task, you can create users for any of the organizations to which you have access. In addition, you can define user roles to define user access, and you can define the queues to which users are assigned in order to receive alerts.
Delivery Tasks – CSRs have the ability to modify the fulfillment information and the addresses for an order placed by a customer. This includes complex scenarios such as 'Buy Online, Pick-Up in Store' (BOPUS)
Return Order Tasks – Representatives can also help a customer create a return order for their sales order(s). In the call center application, a user can even be set up to create a return for a customer who has no order in the system, who has lost a receipt, or who received the wrong item or an item he did not order.   Complex reverse logistics scenarios like advanced exchanges, and regular exchanges, can also be handled cleanly within the application.
If your goal is enabling your CSRs and Customers, and you want an easy-to-implement, full-featured application that you can manage yourself, then Bridge Solutions Group can get you on the right path. With the technology changes happening so frequently and with such a wide range and cutting edge technologies available, you get the flexibility of choosing best-of-breed technology and implementing the call center with the desired features most suitable to your business requirements. As result, you do not get tied down by a packaged application as such, but you do gain complete control for maintaining and enhancing the application in the future.
And don't worry if your organization does not want to or cannot manage this type of application in-house, as Bridge Solutions also provides full-fledged Implementation Services and Managed Services to install, host, manage, and support your IBM Sterling software as efficiently and quickly as possible. To learn more about the best practices for implementing the call center application contact us at [email protected]