The Easter weekend is a significant peak period when online sellers find an excellent opportunity to win more customers and boost sales. Online spending during this period has been rising steadily over the past few years. According to an NRF study, the average Easter spending by US citizens has increased from $140.62 in 2015 to $179.70 in 2021. The rise in online shopping for Easter 2023 seems inevitable.
So what do you do to ensure your eCommerce performance booms as the Easter weekend kicks in? You start with the basics, of course. Some of these measures can include:
"Easter Special" promotions and deals
Optimization for mobile
Focus on improving customer service
Flexible payment options
Expansion to social commerce
However, if you want to take this to the next level and give your business the eggs factor, there's much more you can do to win over your customers this Easter. Here are some of the things you can do.
Enriched content and experiences – because it's all about jazzing up those eggs for Easter
Ever since eCommerce came into existence, the biggest challenge for online businesses has been to reduce the distance between the buyer and the product. Customers now rely almost entirely on content to make buying decisions, and they expect this content to be a true representation of the product. This includes descriptions, features, filters, search, navigation, images, videos, and everything else that makes the content more "useful" to shoppers. That 54% of online buyers expect more video content, or 60% of these buyers rate user-generated content (UGC) to be more genuine, only tells a part of the story. What these numbers truly indicate is the need for content that's personalized, comprehensive, and representative of the product they're looking for.
Read more about enriched content in our blog: https://www.pivotree.com/uncategorized/just-what-is-aeoeenrichedae%c2%9d-product-content/
Don't put all your eggs in one basket – Leverage Omnichannel
While you ready your customer-facing channels for Easter, it's equally important to ensure that these experiences are consistent across touchpoints. Why? Because the modern-day shopper is likely to use multiple channels throughout the buying journey, and they expect these experiences to be connected. It comes as no surprise that businesses with effective omnichannel engagement retain 89% of their customers. So as you put together the perfect Easter surprise for your customers, make sure it's not just pleasant but also connected and consistent.
Learn more about how to master omnichannel commerce here: https://www.pivotree.com/blog/360-degrees-of-retail-omnichannel-commerce/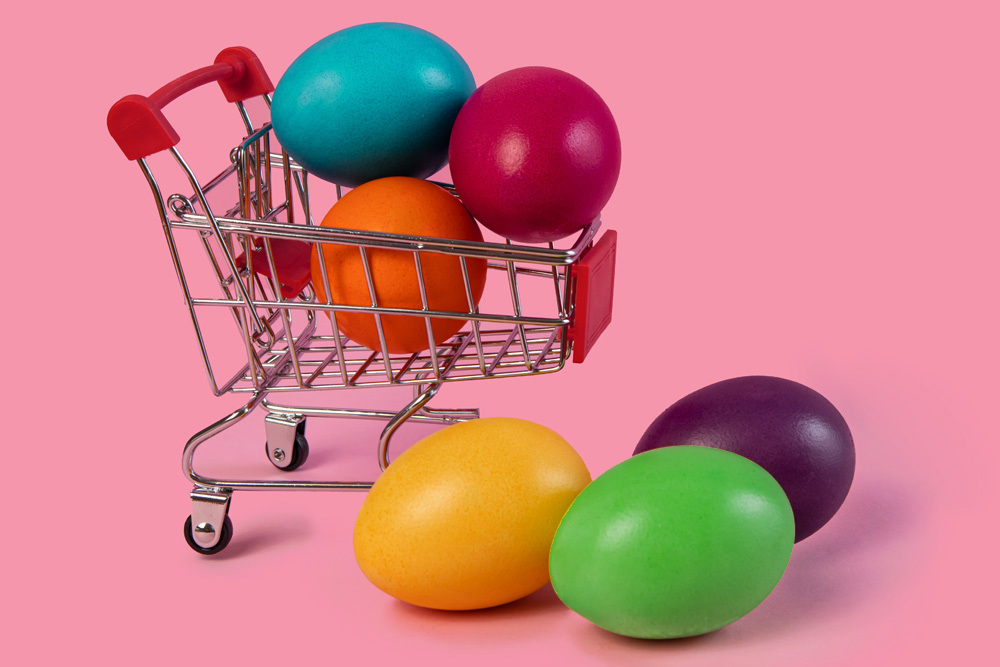 Just like broken Easter eggs, nobody likes broken promises
Did you know that 76% of respondents of this shoppers' survey said that negative delivery experiences would affect their decision to engage with a company again? Or that approximately 30% of all products ordered online are returned? Finding the cause for these issues is not very different from an egg hunt, though not as exciting. When customers face these friction points during peak times – like Easter – the lack of trust is compounded.
Easter and other similar peak periods serve as a "moment of truth" for online sellers where glitches are exposed. However, the good work that goes into ensuring that these glitches don't hit unexpectedly runs deep, deeper than most organizations can fathom. And this is why organizations must ensure they have the right foundation in place – one that brings together the right technologies, platforms, and data to sail smoothly through peak periods.
Read more about how to build trust in the customer journey: https://www.pivotree.com/blog/8-ways-to-build-trust-in-your-customers-journey/
Just like the surface of an eggshell, Pivotree is all about commerce that is smooth…and frictionless
We help organizations design, build, and manage complex commerce ecosystems to drive business value. Our commerce services enable organizations to make the most of composable technologies and platforms while delivering profitability. With our data management services, we strive to give organizations what they need the most – all the good data without the hassle of managing technology. Our supply chain solutions power organizations with Cloud-based tools and services that support fast and accurate fulfillment
So when you're thinking about enriched content, omnichannel excellence, or even fulfilling customer experience on the whole, and it's Easter time, you know who to call!