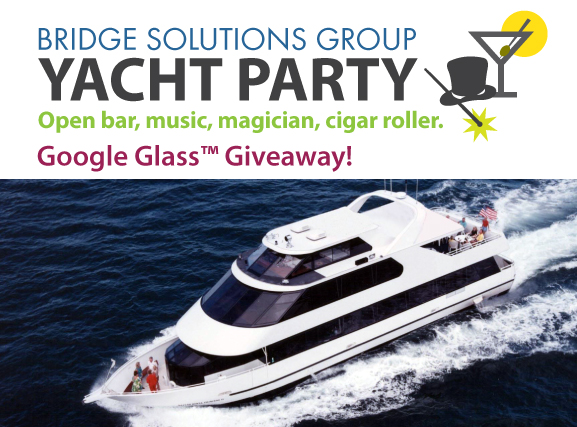 May 12-15 we'll be at the IBM Smarter Commerce Summit and we hope you'll join us for our…
FREE Yacht Party: Open bar, music, magician, cigar roller.
Tuesday, May 13th, 8:00 PM boarding, boat leaves at 8:30
RSVP here:  https://bsgyacht.eventbrite.com
And here are 4 compelling reasons why you'll want to stop by our booth, S-4.
1. Get your Google GlassTM Giveaway raffle tickets
At the Yacht Party we'll be raffling off Google Glass, so stop by booth S-4 to pick up your raffle tickets and be there to win.
2. Learn about our Google GlassTM app
We're working hard to bring cutting edge technology to omni-channel and supply chain customers. Ask us about our upcoming app for Google Glass at booth S-4.
3. Ask us about Click and Collect and Shipping from Store
For omni-channel retailers, find out how Sterling Order Management can be used to add 'Click and Collect' and 'Shipping to Store' to your omni-channel capabilities. Stop by booth S-4 for more information.
4. Learn about Ultra-High-Speed Cloud Data Transfer using Aspera
The performance benchmarks will blow your mind.
See you there!