Introducing Pivotree Evolve, an Order Management System (OMS) assessment tool that navigates the complexity of optimizing your current platform towards customer-centricity.
Volatility in the supply chain is the new normal. Impacted by the pandemic, logistics disasters, global conflict and sustainability, the ability to continue to deliver and accelerate orders while maintaining customer experience is an ever-evolving challenge. These market conditions are driving unprecedented growth in the OMS commerce ecosystem, and the spotlight remains on OMS inventory accuracy, availability and order fulfillment to meet omnichannel demand with less friction.
Substantiating the growing demand to transform OMS software to support the customer experience (Cx). A Gartner article chimes in, "Future capacity constraints and increasing product complexity will stretch supply chains, pushing organizations to look for more creative ways of delivering products to customers. Leading supply chains recognize the need to partner with the business for growth, while also driving efficiencies." 1 and it is further explained in the Gartner for Supply Chain report "Four Steps to Becoming a Customer-Centric Supply Chain" 2. 
The image below illustrates the point that Cx is critical in a crowded, competitive marketplace impacted by the disruption.
Figure 1. Gartner Report. "Expected outcomes from Cx Investments".
Percentage of Respondents (Sum of Top 3 mentions). 3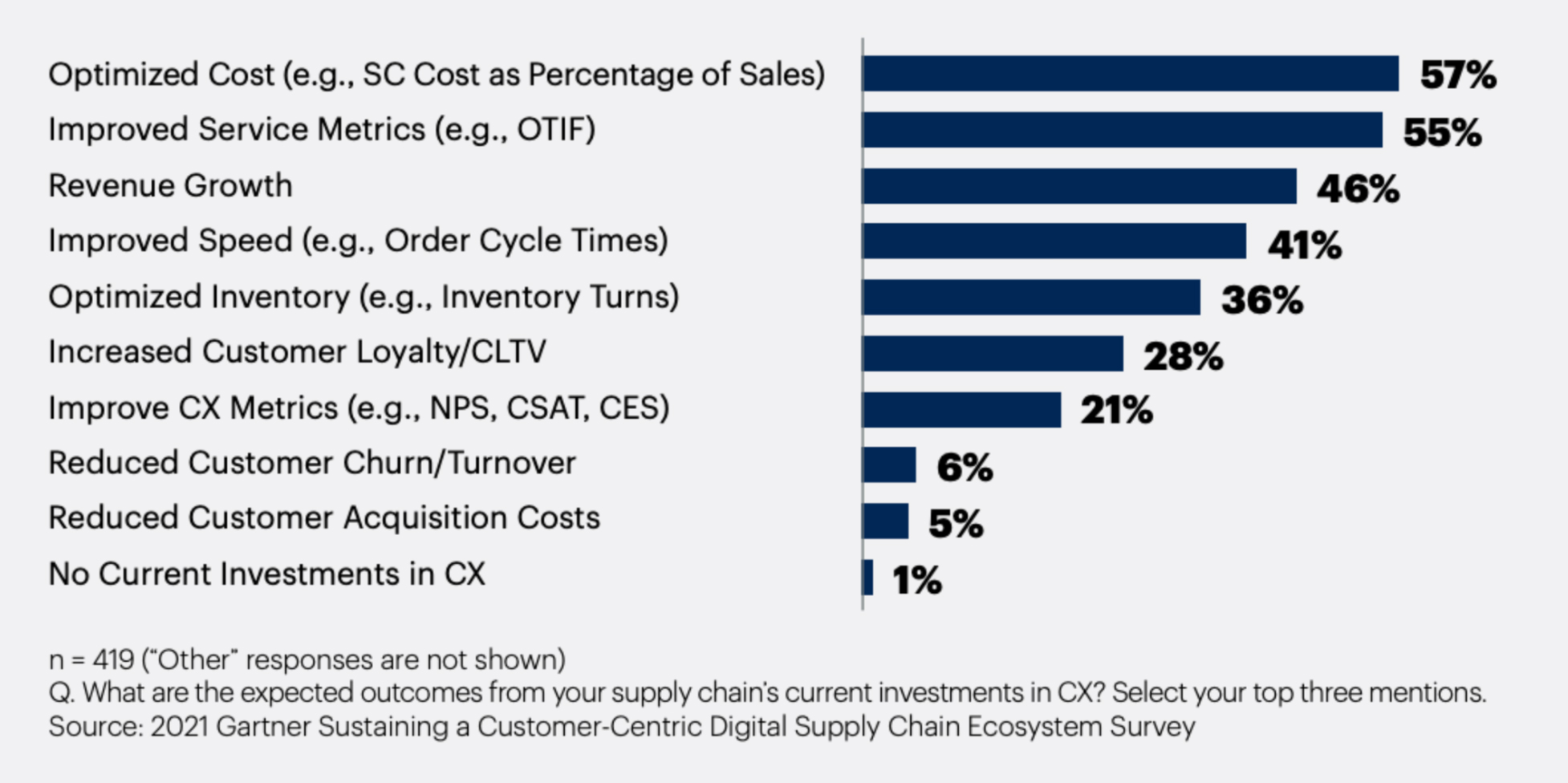 If there's one thing that these reports state, it's the unmistakable criticality of an OMS that is focused on growth, ESG (environment, social and governance), sustainability, real-time dynamic capabilities and agility to support the customer journey. Your OMS drives your supply chain, giving you visibility and absolute control over critical aspects of order fulfillment. So, disruption is clearly not an option. Customer churn in this already constrained environment means a loss of competitive advantage.
Avoiding this risk doesn't just mean having OMS software, it also requires one that is up to date, relevant and in line with your business requirements.
With Pivotree Evolve, you get actionable insights on the current state of your OMS, and clarity around the next steps you need to take to keep your OMS relevant, effective, optimized and frictionless.
Why choose Pivotree Evolve:
Speed: Get a detailed overview of your OMS in no time

Quality: Access high-quality reports with actionable outcomes and insights

Usability: Run an analysis/comparison in a few easy steps
The assessment gives you clear, objective, and actionable information on the current state of your OMS. You can easily analyze your OMS code for bugs and vulnerabilities, compare your current Sterling OMS version against advanced ones, and modify your OMS to best suit your business objectives.
Benefits  of  Pivotree Evolve:
Decrease in tech spend:

Proven to reduce upgrade time and cost by up to 30%

Accelerated time to market:  An integrated and seamless managed service delivery with fast deployment and onboarding

Mitigate risk: Stabilize OMS platforms significantly and meet changing consumer demand
Pivotree Evolve enables you to get started on the evolution of your supply chain, and stay ahead of the game!

About Pivotree
Pivotree, a leader in frictionless commerce designs, integrates and manages digital platforms in eCommerce, Data Management, and Supply Chain for over 250 major retail and branded manufacturers globally. As a leading delivery experience company, Pivotree leverages platforms and innovative solutions to deliver business-relevant fulfillment solutions, eliminating friction from physical and digital supply chains. 
Headquartered in Toronto, Canada with offices and customers in the Americas, EMEA, and APAC, Pivotree is widely recognized as a high-growth company and industry leader. 
For more information, visit www.www.pivotree.com.

By: James Brochu, GM – Supply Chain, Pivotree
_________________
1 Gartner, "Supply Chain Customer Fulfillment & Collaboration." 2022 https://www.gartner.com/en/supply-chain/role/supply-chain-customer-fulfillment-leaders. Accessed 9 May 2022.
2 Gartner. "Four Steps to Becoming a Customer-Centric Supply Chain". Accessed 9 May 2022. GARTNER is a registered trademark and service mark of Gartner, Inc. and/or its affiliates in the U.S. and internationally and is used herein with permission. All rights reserved.
3 Gartner Report. "Four Steps to Becoming a Customer-Centric Supply Chain". Accessed 9 May 2022
4 Gartner Report. "Reinventing the Supply Chain of the Future. Four Innovations to build a disruption-tough Supply Chain". Accessed May 7, 2022