Recently, I ordered a hood ornament emblem for my vehicle from a specialty store. This well know website is specific to my auto and I have made purchases here before. But, in this case, I have been disappointed.
I ordered the hood ornament on August 3rd and it shipped on August 4th. Free shipping for this site required a $150 purchase and I did not qualify. Therefore, I paid $8.95 for the UPS ground delivery service.
The package was coming from New Hampshire and was to be delivered in the panhandle of Florida. Referring to the map below, I expected to receive my merchandise in 3 days.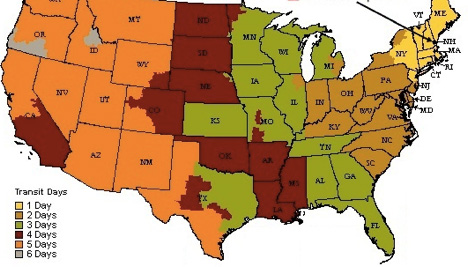 Source: UPS.com
The 3-day time frame and route to Florida seemed reasonable when I made the purchase. But, tracking my package I found out otherwise. The package was picked up on the day after the order was placed but went through 4 hubs before reaching me on August 10th. It took 6 days for me to receive a package that weighed less than 1 pound all for the price of $8.95.

Source: Shipment status email from UPS
The shipment model struck me as being overhandled and too long. This 8 by 11 padded envelope could have easily been shipped by USPS. I am in zone 5 and at a weight of 8oz, it would have cost $4.99. even at a pound, it costs $5.47. If I had the option to upgrade to priority mail second day for the padded envelope, would have cost $6.80.  A faster and cheaper delivery versus the 4 stops before arriving at my home.
Source: UPS.com
Retailers better get smart when it comes to shipping costs. It took me 30 minutes to find this information. Now I feel ripped off. In the future, I will be doing the shipping and delivery research before I make a purchase.
The retailer needs to look at the shipping options and rates very closely. They may be making more money on shipping, but our losing customers. According to the IBM 2016 Customer Expectations Study, 72% of the surveyed customers prefer 2-day shipping. Since Amazon Prime offers 2-day shipping on everything part of Amazon Prime, it has become the norm. And, the importance of a speedy delivery when choosing a retailer is greater than 70% for all age groups except for the over 60 crowds.
Shipping costs can forfeit sales. Had I known all this information before making my online purchase, I would have called in my order to the call center and requested a discount or a different level of service. But, according to the IBM Customer Expectations research, 83% of the consumers have chosen not to purchase because of shipping costs. Females tend to be even less forgiving than males.
In today's world of transparency, a retailer can no longer offer a size fits all for shipping, delivery dates, and cost. Options are important. But, the tendency for most retailers is to offer only standard, 2-day, next-day, and same-day delivery. Many also only use one provider which is what I speculate with my retailer. They may only have a contract with USP as much of their product can be heavier.
Retailers beware that the shipping, delivery dates, and costs are always changing. The customer's expectations are also and the challenge of fulfilling profitably while meeting demands needs to be more of a focus for retailers to be successful.