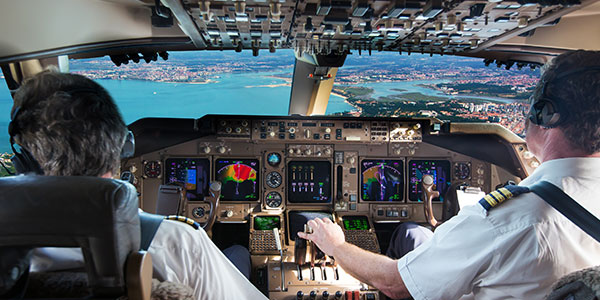 An Order Management system is like the cockpit of an aircraft. It provides a single view of data from multiple systems, only instead of flight systems it's fulfillment systems.
Let's use an airplane analogy. There are many systems on a plane: Flight controls, hydraulics, fuel, oxygen, navigation, communication systems, etc. They're all critical to the safe delivery of passengers to their destination. But the cockpit is where the pilot can see input from all these systems, and tweak them to ensure an optimal flight experience.
An Order Management system is like the cockpit.
You have many order capture and fulfillment systems in your business: eCommerce, Point of Sale (POS), Enterprise Resource Planning (ERP), Warehouse Management System (WMS), etc. An Order Management system lets you see inventory across all locations (including inbound inventory), customer data, and order fulfillment status from all those systems in a single interface. It also lets you define and tweak fulfillment rules to provide an optimal customer experience.
Because it integrates data from multiple systems you get a single, real-time view of your customer orders and fulfillment operations which enables:
In-store pickup of online purchases
Ship to store
Ship from store
Real-time order status
Real-time returns processing, and
Promising against inbound inventory, not just on-hand inventory
It can also provide a mobile interface for store associates so they can locate out of stock items for a customer at another location, and provide better cross-sell and up-sell recommendations.
In short, an Order Management system is an essential component of modern omni-channel fulfillment operations.