While eCommerce is expanding the store is still a critical part of your omnichannel strategy.
Ask us about a briefing on the IBM Consumer Expectations Study 2016 to learn more.
What does it really take to be an omni-channel organization? Regardless,  whether it is retail, manufacturing, wholesale, or B2B, omni-channel retail has four critical requirements:
Order Capture and Transaction
Global Inventory Visibility
Inventory and Order Orchestration, and
the Store.
Why the store? For most retailers, the store still represents approximately 92% of revenue. So the store plays a very important role. But, one may say that according to the U.S. Commerce Department, e-commerce is growing at almost 15% a year while the store is only growing at roughly 3%. That is true, but the store still represents the bulk of company revenue and a more differentiated brand experience.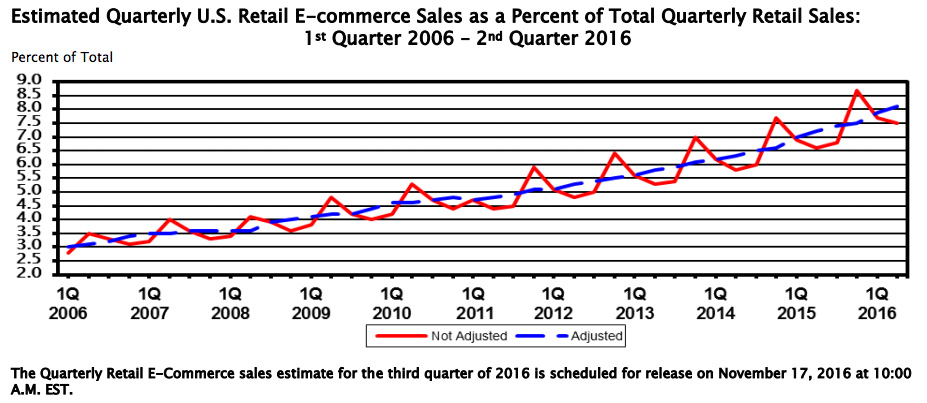 Source: US Census Bureau
The omni-channel concept began over fifteen years ago for me. At Best Buy.com, the in-store pickup initiative was the first step within an omni-channel strategy. We realized that the customer wanted convenience, their merchandise reserved, and did not want to pay for shipping. The second phase was a model that I branded as "Store to Door." This ship from store to the customer's home was never launched in my time as the stores were receiving enough business from the pickup initiative. But, I am happy to see that according to Slice Intelligence the ship from store to home has reduced Best Buys delivery time to 3.3 days and is the leading retailer for this metric.
Most recently, I have presented the 2016 IBM Consumer Expectations Study to retailers and manufacturers. In this research, a follow-up from research I completed 5 years ago, 78% of the consumers considered it important for retailers to provide details beyond "in stock" or "out of stock" inventory. Customers want to know the specifics on inventory availability in all channels. For the consumer, out-of-stock inventory will always be a challenge. This same research indicated that 81% of the consumers expect the store associate to quickly and efficiently locate an out-of-stock item at an in-stock location and find a way to get it to them. This is up from 72% in 2011. Furthermore, 79% of the consumers will purchase an out-of-stock item and 71% will buy an attachment item if you can find it elsewhere.
The store's omni-channel capabilities are playing a much larger role in fulfilling orders. In-store pickup and shipping from the store are becoming the standard in delivering orders quickly and cheaper. The store is also the best defense against Amazon Prime. Why else would Amazon have 185 warehouses and plans for another 35 in the U.S.? Each of the buildings positions Amazon closer to the customer and provides quicker and cheaper delivery. I call this the "Amazon Affect." If you would like to hear more about the "Amazon Affect" and how to win with your stores, please contact us.
Are you ready to win the omni-channel battle with your stores?