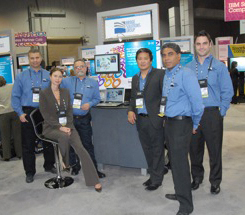 Our experience at IBM's IMPACT conference was educational, fun, and worthwhile. For those of you unfamiliar with IMPACT, it is IBM's annual conference to bring together IBM'ers, Customers, and business partners to discuss all things IBM. This year's conference was held at the Venetian, which is amazing in itself. The Venetian's artificial sky, massive scale, and incredible amenities make this venue amazing, which only adds to the conference atmosphere
But for the more technically minded, the real noteworthy things were happening in the IBM conference area. IBM's theme this year is 'Smarter Commerce' and 'Cloud Computing', and they are helping their partners, customers and their own team truly define what that means in the world today as well as what it means for the next 10 years. Key focus points of the conference included the projected "Impact" of cloud computing, commerce, and overall innovation.
Bridge Solutions Group's booth at IMPACT 2011 displayed our capabilities, products, and services. We discussed our visibility product that extends Sterling Integrator transactional visibility across the enterprise and is based on the IBM Cognos reporting tools. This was also Bridge Solutions' first opportunity to publicly tout our now truly global capabilities. Bridge Solutions teams are working out of Noida and Bangalore India offices, as well as several ongoing international engagements in South America and beyond.
As an IBM and Sterling commerce consulting partner and now a value-added reseller, we paid particular attention to IBM's recently purchased Sterling Commerce product suite. As IBM integrates the individual products (SMCSF, SI, etc…), many groups are trying to predict the short and long-term product roadmaps. Already there are indications that the Websphere Commerce suite will be more tightly integrated with the Sterling Selling and Fulfillment Suite.
Although this is not really a surprise, most partners and customers are still waiting to see what that tighter integration will look like. Most customers and partners are extremely excited about all the potential this creates. The product road map is still, by most accounts, in its infancy. Since all indications point to each of the products maintaining their capability to run as stand-alone systems, the question truly is which product will get the true emphasis when there are functional commonalities.
Common questions from customers and partners have been around the fate of the existing COM screen architecture, pricing routines, and kit/bundle capabilities. The common answers from IBMers have been 'If I knew, I couldn't tell you and 'I was wondering the same thing'.
Other notable key points of interest:
IBM is moving towards more pay-as-you-go models for cloud and other shared services and tools. (IBM projected this as a 7 billion US$ opportunity for itself within 5 years)
IBM BPM tool BlueWorks is one to keep your eye on. The UI, functionality, and overall intuitiveness are great!
Forrester Research indicates heavy growth over the next 5-10 years in both the platform-as-a-service (PaaS) and Integration-As-A-Service (IaaS).
The release of Websphere Application Server WAS Version 8 was trumpeted loud and clear at the conference.
Significantly less emphasis was given to the Sterling Commerce Suite of Mobile Applications that dominated the themes of Customer Connect 2010. Gone are the walls and walls of iPads and mobile-capability kiosks, which were replaced with an emphasis on cloud computing. Some of that may be due to the fact that Sterling is also still only slated to have apps compatible with the iPhone platform. No plans for either the Android or Windows phone platforms have been formally announced as of yet. We all will have to wait and see what IBM/Sterling's next steps are in the mobile world.
Overall the IBM Impact conference was a big success, and Bridge Solutions Group, among others, were able to learn, forge relationships, and get a better understanding of the new company roadmap for IBM/Sterling commerce. The conference demonstrates the need for organizations to create agility and innovate more rapidly than ever before. As we move forward into the upcoming years, the new economy and global dynamics will force us all to be "smarter".
Bridge Solutions Group and IBM are actively looking to partner with your organization to innovate, accelerate and create a dynamic enterprise to meet those forthcoming challenges. It was great to see so many like-minded persons and companies for Bridge Solutions Group to partner with. We believe, as partners, that we can all look forward to moving ahead and positioning us in this brave new world of "smarter commerce".
You can email us at: [email protected] or call us at 1.877.245.4347