Earlier this month, Internet Retailer published the 2014 Top 500 Guide. Based on a thorough analysis of the top 100 online retailers listed in the Guide, I was able to gather the following information about eCommerce platforms used by the largest online retailers in America.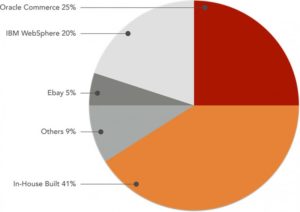 1. Most online retailers use in-house built eCommerce platforms.
The number of the top 100 merchants which use their own eCommerce platforms hasn't changed since last year and still comprises 41% of the market
2. Oracle ATG Commerce is the most popular eCommerce platform.
While last year Oracle ATG Commerce and IBM WebSphere shared the position of leading eCommerce platforms for the largest eRetailers, this year we have a clear winner – Oracle ATG Commerce. With 25 merchants from the top 100 using it as their eCommerce platform, Oracle ATG Commerce is ahead of IBM WebSphere by 5 clients (IBM WebSphere was chosen by 20 companies from the top 100 eRetailers).
Note: I have focused my research on the number of clients served by eCommerce platform providers, as opposed to basing it on a dollar value. Therefore, other eCommerce platforms could have a higher ranking than Oracle ATG Commerce based on web sales of their clients from the top 100.
Previous Year Statistics:
3. The number of online retailers using Oracle Commerce has doubled since 2010.
Both Oracle ATG Commerce and IBM WebSphere have grown their client base in the top 100 eRetailers list during the last four years. Starting with 12 and 13 clients consequentially in 2010, the eCommerce platforms were always going head to head with the closest competitor, eBay Enterprise/GSI Commerce being far behind.
| | | | | | |
| --- | --- | --- | --- | --- | --- |
| | 2010 | 2011 | 2012 | 2013 | 2014 |
| Oracle Commerce | 12 | ? | ? | 20 | 25 |
| IBM WebSphere | 13 | ? | 18 | 20 | 20 |
| eBay Enterprise | 3 | ? | ? | 3 | 5 |
Note: Information in the table above is based on my own research as well as publicly available materials. No information for the year 2011 could be confirmed. Verifiable information for the year 2012 was only available for IBM WebSphere.
Other eCommerce platforms used by online retailers in the top 100:
Fry/MICROS
RedPrairie/JDA
Hybris/SAP
Demandware
Intershop
Digital River
Examples of the IR Top 100 eRetailers that use Oracle Commerce and IBM WebSphere:
Oracle Commerce
IBM WebSphere
Neiman Marcus

Walgreens

Macy's

Express

CVS

Kohl's

Blue Nile

American Eagle

OfficeMax

Chico's

Target

Abercrombie&Fitch

Costco

Bass Pro Outdoor

1-800-Flowers

L.L.Bean

Staples

Coach

Disney

Follett
See More Examples:
Note: In the '2013 Leading eCommerce Platforms for the Top 100 eRetailers in America's report I had mentioned some online retailers that announced their plans to migrate to other eCommerce platforms. While the announcements were made, it will take months and, for some companies, years to complete a migration process. As a result, they still use their old platforms and were subsequently counted as being clients under their old platforms.
4. Some online retailers use multiple eCommerce platforms.
If you had a chance to read the '2013 Leading eCommerce Platforms for the Top 100 eRetailers in America's report, you probably remember some examples of merchants using different eCommerce platforms in different countries or for different brands that were included in the report. In this year's report, I will share with you some new examples of such companies.
Saks Inc. currently uses multiple eCommerce platforms for their websites. The company has recently announced plans to move all of its brands to the same technology. The name of the technology, however, has not been specified.
While Costco's eCommerce sites for the US and Canada use IBM WebSphere, its most recently launched online stores in the UK (launched in 2012) and Mexico (launched in 2013) run on Hybris.
According to Internet Retailer, Williams-Sonoma keeps using an in-house built eCommerce platform for its .com website while launching international sites on NetSuite at the same time.
5. Some online retailers switched to another eCommerce platform.
eBay Enterprise announced that Sony started using its new suite of commerce technologies in September 2013. Sony was previously leveraging the IBM WebSphere eCommerce platform.
Barnes & Noble is actively hiring Oracle ATG Commerce specialists in 2014 (based on Java, Oracle and ATG developer jobs available at the company and published on indeed.com). Therefore, there is a high possibility that the retailer has migrated from its old platform to Oracle ATG Commerce.
Toys R Us also started hiring Oracle ATG Commerce experts. For instance, according to the job posting for an IT Manager position published on LinkedIn on May 16, 2014 Toys R Us is looking for an Oracle ATG Commerce specialist whose responsibilities would include '…work[fusion_builder_container hundred_percent="yes" overflow="visible"][fusion_builder_row][fusion_builder_column type="1_1″ background_position="left top" background_color="" border_size="" border_color="" border_style="solid" spacing="yes" background_image="" background_repeat="no-repeat" padding="" margin_top="0px" margin_bottom="0px" class="" id="" animation_type="" animation_speed="0.3″ animation_direction="left" hide_on_mobile="no" center_content="no" min_height="none"][ing] with key members of the management team to define and drive technical strategy and architectural direction for Oracle ATG-based eCommerce platform'.
Disclaimer: I did my best to provide the most current and accurate information in this post by analyzing information about the Top 100 eRetailers published on the Web. However, up-to-date information about some retailers' eCommerce platforms was not always available. Subsequently, while data provided in this post are based on the most current information available online, there is a chance that some retailers switched to another platform but haven't announced it yet. If you find it to be the case, please let me know and I will be happy to make the necessary changes. Lets keep this post current together![/fusion_builder_column][/fusion_builder_row][/fusion_builder_container]